GÉANT
GRNET is present in global networking for research and education, representing Greece in GÉANT . GÉANT  is Europe's leading collaboration on network and related infrastructure and services for the benefit of research and education, contributing to Europe's economic growth and competitiveness.
The organization develops, delivers and promotes advanced network and associated e-infrastructure services, and supports innovation and knowledge-sharing amongst its members, partners and the wider research and education networking community.
It is owned by its core membership of 36 European national research and education network (NREN) organizations and NORDUnet, which participates on behalf of five Nordic NRENs. Associates include commercial organizations and multi-national research infrastructures and projects.
GÉANT  was formed on 7 October 2014, when TERENA and DANTE joined forces and adopted the GÉANT name from the GÉANT Project, which continues to be a major area of the organization's work.
PRACE-RI
GRNET participates in PRACE Research Infrastructure (PRACE-RI). PRACE is established as an international not-for-profit association (aisbl) with seat in Brussels. It has 25 member countries (October 2012, see here) whose representative organizations create a pan-European supercomputing infrastructure, providing access to computing and data management resources and services for large-scale scientific and engineering applications at the highest performance level.
ARIADNE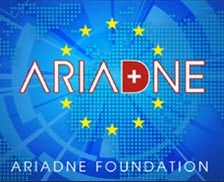 GRNET is member of the ARIADNE foundation. ARIADNE foundation is a non-for-profit organization based in Leuven, which aims at promoting the sharing and reuse of educational resources as well as creating technological infrastructure for homogenization and concentration of educational metadata repositories.