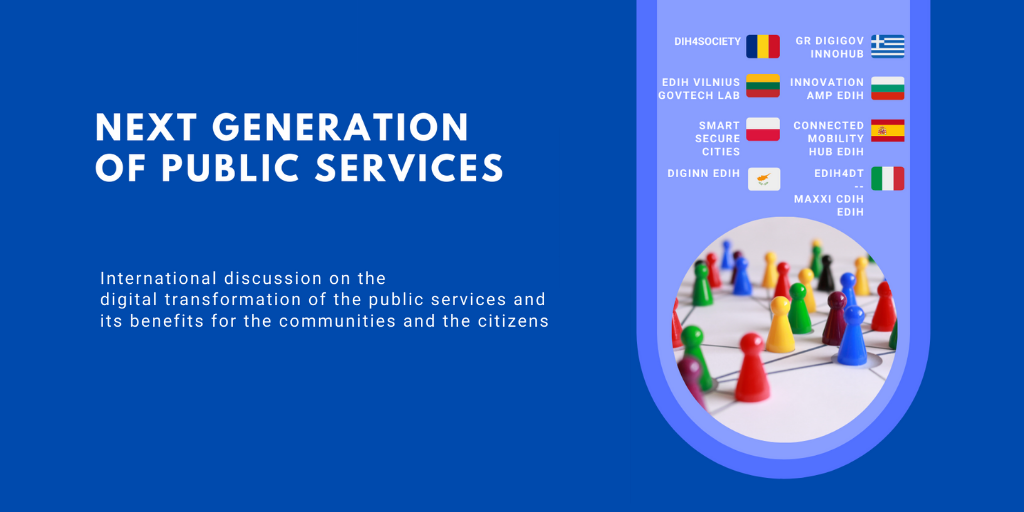 The online discussion on "Next Generation of Public Services – International discussion on the digital transformation of the public services and its benefits for the communities and the citizens" was a great success. It took place on July 15th, 2021 and 9 European Digital Innovation Hubs from 8 countries participated to share their experience and vision for the future. 
Τhe Innovation Hub for Digital Governance – GR DigiGOV – InnoHUB, coordinated by GRNET, took the initiative of co-organizing the event.
The participants shared their experience from contributing to the digital transformation of public administration in their country and presented successful examples from their journey so far. They also discussed common needs between countries and regions, as well as the challenges they have faced and the solutions they have offered.
The participants from Greece, Romania, Lithuania, Italy, Spain, Poland, Bulgaria and Cyprus expressed their will to further exchange best practices on digitalization solutions for public sector (Infrastructures, Business models addressing return on investment, Success stories etc), present best practices on AI utilisation in public services and to create awareness in our ecosystem. The participating countries committed to organize their next meeting in mid-September to further analyse case studies from the "Next Generation of Public Services".
The participating Innovation Hubs in this workshop were from: Greece (GR DigiGOV-InnoHUB), Romania (DIH4Society), Lithuania (GOVTech Lab – EDIH Vilnius), Italy (EDIH4DT), Spain (Connected Mobility HUB EDIH), Poland (Smart Secure Cities), Bulgaria (Innovation Amp EDIH), Cyprus (DiGiNN Cyprus EDIH) and Italy (MAXXI CDIH EDIH).